The 2021 Subaru Love Promise Customer and Community Commitment Award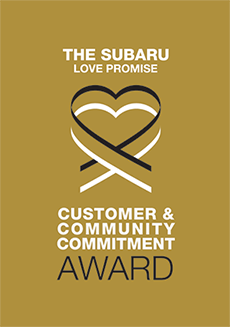 We've been nationally recognized for our dedication to our customers, our community, and the Subaru Love Promise.
We're honored to receive the 2021 Subaru Love Promise Customer and Community Commitment Award. This award nationally recognizes elite Subaru retailers who provide an exceptional customer experience at every interaction with Subaru. These retailers have also demonstrated an outstanding commitment to supporting passions and causes in their local communities in important areas such as the environment, community, health, education, and pets.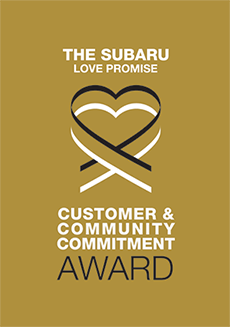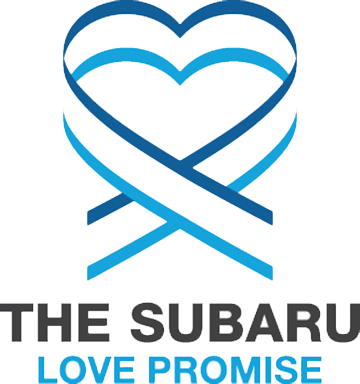 What is the Subaru Love Promise?
Subaru and our retailers believe in making the world a better place and the Subaru Love Promise is our vision of respecting all people. This is our commitment to show love and respect to our customers and to work to make a positive impact in the world.
How is Bay Ridge Subaru dedicated locally to the Love Promise?
THE BAY RIDGE SUBARU TEAM A group of automotive professionals who go the extra mile to make sure all your automotive needs are met. Stellar customer service is our mission while supporting our local and near-and- dear charities.
Badass Brooklyn Animal Rescue, ASPCA
Weill Cornell Breast Center
Love Promise Stories from Bay Ridge Subaru
Subaru and Bay Ridge Subaru believe in making a positive impact on the communities in which we live and work. We uphold that belief through our Love Promise Community Commitment. Every month, we select inspiring stories from customers and partners from around our area who strive to support our collective commitment and feature them here
Pet Friendly Dealer - Zach C
I came in last month to lease a new Forester and I was pleasantly surprised that this dealership didn't chase me out with my puppies. Other store's aren't very pet friendly and ask you to return once you bring your furry friends back home, but NOT Bay Ridge Subaru. Ray helped me with my purchase and as I was going thru the process he made my puppies feel like family by bringing them a bowl of water and toys to munch on and occupy them ! What a terrific group of people and glad to have them as my home dealership and friends.
---
Bay Ridge Subaru Comes Thru For Us - A K
In this time of pandemic, on a Monday morning, the agency was busy. Many people were already waiting in the waiting room, each separated safely and wearing masks. I came promptly at 11 am, and was taken immediately. I was treated courteously, and, with kindness. I walk with a cane and have handicap plates. Everyone I interfaced with was solicitous, from the intake people, the man who saw my husband bring me back and noticed I was trying to stop my husband from driving away. I thought I'd left my phone in his car. Your employee quickly flagged my husband down for me. Everyone I dealt with was kind and professional.
---
I Love Bay Ridge Subaru - Bre E
I just wanted to reach out to your company to let you know about one of your amazing salesmen Anthony Grippo at Bay Ridge Subaru. Let me start by saying Anthony is the reason I will be getting my fourth Subaru next month. Three years ago I bought a certified pre owned legacy as a Present for myself after I graduated the police academy and a year later I was in a horrible accident. Anthony reached out to me right after to make sure I was okay as well as my new born son. I couldn't believe it. I was devastated the car I loved was totaled. So then I leased my next Subaru because I truly believed he cared and would help me find another safe car for myself and my family. I am returning that Lease next month and I was truly considering leasing either a Dodge Durango or the Atlas Sport for cost reasons and what made me decide on the Subaru Ascent was Anthony. His outstanding customer service is why I continue to go back. Anthony also knew how much I loved my legacy and helped me to purchase a legacy this year. As long as Anthony Grippo works at Bay Ridge Subaru I will forever be a loyal Subaru customer and thank you for making a vehicle that saved my life and a vehicle I feel safe traveling in with my son.
---
Saving Dogs with Subaru! - Krista M
Badass Animal Rescue has been working with Bayridge Subaru for a few years now and we love this partnership! Not only do they welcome us with our dogs at their location by hosting adoption events, which help dogs get adopted into forever loving homes, but they sponsor our events. The time, money and love they put into helping the dogs here at Badass has helped dozens of dogs find their families and the money raised and donated to Badass helps to cover the major medical costs for our dogs each year. We could not save as many dogs as we do without our relationship with Bayridge Subaru! Their impact on our dogs and community is huge! Thank YOU Bayridge Subaru for always looking out for the dogs of Brooklyn and supporting our small rescue! Recently they hosted us for our first virtual adoption event after the Covid-19 shut down. Being unable to host large scale adoption events made this year a different one. But being able to bring a small number of dogs to their location and zooming in a bunch more plus adopters ended up in EVERY SINGLE dog that attended being adopted within days!
---
Virtual Pet Adoption - Elizabeth L
Thank you Badass Brooklyn Animal Rescue! We were so happy to host Spumoni and Dodger as well as their Foster Parents! Bay Ridge Subaru was so excited to hear that all animals from the event will be making their way to furever homes. We love working with you and are proud to be a part of getting animals out of shelters and into loving homes! We look forward to our continued partnership.
---
Bay Ridge Subaru Does It Again - Rosa B
The team at Bay Ridge Subaru is always there for us. I purchased my Ascent last year (Feb 2019) and I love the truck by the way! On a different note, I had a blowout on the Belt Parkway very recently and I was so scared and nervous beyond belief. My husband was away on business and not available to help me out. I called my sales consultant, Gerald Wactor and asked what do I do?!?!? He calmed me down and made sure I maintained control and not too crazy during these very trying times. Gerald walked me through the process on what I should do, and this all occurred on a Saturday afternoon where all he should have been more worried about was selling cars not helping me. Nevertheless he stood with me and gave me the roadside number to call and then patched me through to Kayla the service advisor. She also was extremely helpful and told me what I need to do prior to getting there and stood on the line with me until I got all the info. I got to the service department with my temporary spare and Kayla made sure they were all over my truck. I went to the showroom to thank Gerald and he was so very concerned it was like it was his family member that got stuck. He kept saying are you ok? Your all good now and in good hands. I gave Gerald a big hug as a token of my thankfulness. I was done in about an hour to an hour and a half and back on my way to enjoy the weekend. Thank you Gerald, Kayla and the rest of the Bay Ridge Subaru team as its not always about the deal it's also about helping out your "automotive family".
---
Helping locals out during Covid - Fran P
My family and I came into Bay Ridge Subaru to purchase a new Crosstrek. Upon meeting with the sales team we got to talking to Andre and Mike and they brought it to our attention that this dealership had donated meals to people in need after COVID-19 struck the Brooklyn area. That made us so very happy that we supported this dealership as it is this store that is supporting the fine people of Brooklyn. Thank you Bay Ridge Subaru !! And keep strong New York City
---
Loving the community in Bay RIdge - jacqueline a
My story starts upon my showroom visit to Bay Ridge Subaru. They were so nice and caring for all my needs, but it only got better as I spoke with Andre and Mike about they're "all about". They showed us pictures from their yearly toy drive and the most current coat drive they had for the Bay Ridge community. As they demonstrated they are not all about the sale but about the community needs and being there for the Brooklyn needy. Thank you sales team at Bay Ridge Subaru.
---
Keeping NYC warm - Aaron B
Us NYers would like to thank the Subaru of Bay Ridge dealership for collecting many many bags of coats to help keep our community warm this winter. As a neighbor of this dealership we brought a bunch of coats to the store and Mike showed us all the bags he collected. Great job by his team! We saw this picture of them on Facebook and I had to write about the great job they did!! Thank you Bay Ridge Subaru
---
Coat Drive at Bay Ridge Subaru - Olga P
Upon our visit to the showroom we noticed Bay Ridge Subaru's sales department is having a coat drive for their community. My salesperson Andre explained how this time of the year every year they do things for the community .... we think that's great and we are happy that this group is part of our community and we love our Forester !!!
---
Bringing Blankets to the Maimonides Medical Center - Mike C
This past Tuesday our team visited our local hospital (Maimonides Medical Center) and we donated our blankets and hope cards to cancer patients. It was such an amazing experience to take some time and really sit and listen to people's stories and feelings as we talked about what our "rock" or support was in life. It's such an incredible feeling go beyond our dealership and give back to our community!
---
Subaru Blanket Delivery - Monica J
On Tuesday, August 20th the New York City Chapter and the Bay Ridge Subaru team had the pleasure of delivering 80 blankets to Maimonides Cancer Center part of the Subaru Loves To Care program. These comforting gifts were accompanied by personalized messages of hope written by the customers and staff of Bay Ridge Subaru team.We had the unique experience of attending a cancer support group meeting where there were 35 individuals in attendance. As the group was preparing to begin the art project, the head social worker asked each member to share what their 'rock' is. The first woman she asked to speak said that she wasn't sure. She went on to share that things she used to laugh at aren't funny to her right now, she isn't interested in eating, and she questions why she is feeling this sense of confusion when it comes to her feelings. The social worker mentioned perhaps it has something to do with being in a new country among other reasons. One woman spoke and shared much of what her peer was saying resonated with her as she could hear herself in this woman's words. She went on to share how she manages these feelings and ended by introducing herself and the other woman smiled and did the same. It was a moment where you think of every stage of life where you walk into a new situation which could be scary or exciting, but a time when you are walking into the unknown and a friendly voice and warm smile welcome you. That was the theme - having the privilege of learning from this group was the sense of welcoming and unbiased support. When each member spoke, the others listened. If a member began to wipe tears from their eyes, their neighbor rubbed their back. It shined such a light of hope that these programs exist, people truly do need them, and luckily those who need them are not afraid to take part such as the group last night.The social worker, in introducing the Subaru and LLS team, explained that the blankets were a gesture from people who wanted to help, and that they could have different purposes. They could be for warmth, for comfort, or to wrap around yourself on a day where you may just need a hug and there might not be someone there to give it to you. It's something you can take with you and keep and remember that there are people looking out for you. We really liked that she gave them a connection to the blanket so that it wasn't just a nice gift but had some meaning behind it. This was such an incredible experience and we are so proud to partner with Subaru to spread hope, love and warmth to those fighting cancer, across the country and right here in the New York City community.
---
Our successful operation - Mike C
Today was the big day for me and my team. Today was the day we brought our donated toys to our local hospital for their annual pediatric holiday party. The feeling we had deep down knowing we are making sick children's Christmas better. Just knowing we brought joy and happiness to our neighbors who don't deserve this horrible sickness was the best feeling this holiday! It's not Leary's about business and selling cars, it's also about helping out our community. This is one of the many reasons why we love working for Subaru! I love our love promise and we promise to always deliver it !!!!
---
Brooklyn Toy Drive 2018 - Izzy C
I brought my Crosstrek in for service and I saw boxes all around the facility wrapped and labeled "toy drive donations". I asked an employee about it and he said every year Bay Ridge Subaru had a toy drive benefiting sick children in a local hospital. This is a great group of people who not only care about the business but also truly care about people .. Bravo Bay Ridge Subaru. After my car was serviced, I went to the local store and purchased $100 worth of toys for those sick kids !! I appreciated everything the team at BRS does for the community.
---
We love our pets - Gerald W
This weekend was our pet event with Brooklyn Badass Animal Rescue at the showroom. These good folks rescue dogs /puppies and find amazing homes for them with great new families. So we had the event along with our Ascent Launch. What a success! We met some great people, helped out our 4 legged friends and found great homes for these beautiful dogs. Thank you Badass Brooklyn and thank you Bay Ridge Subaru!!
---
Giving back to the kids - Mike C
Today we gave back to the children in our community. We had a "back to school" school supply donation all month long in the showroom and shop and today we brought all the supplies to our local public school. We also brought reading books to the school for the kids to read throughout the school year. The beauty of working for a company like Subaru is it's not all about the cars, it's about our community more importantly!
---
Subaru Spreads Love and Warmth to Patients - Michelle S
On Thursday, June 21st, The Leukemia & Lymphoma Society joined Michael Chiusano and Michael Inzirillo from Bay Ridge Subaru to meet with Daniela Bauer from Maimonides Cancer Center in Brooklyn. Together, we delivered 80 blankets and care cards to Bauer for the patients going through treatment at the hospital. It was clear from the beginning of the partnership that Bay Ridge Subaru is extremely passionate about helping out their community. This is not the first collaboration between Subaru and Maimonides—during the holidays they also make a toy delivery to the children at the hospital to cheer them up. "We truly do care for our community and for all those who are ill at Maimonides Hospital," said Chiusano, "If what we do brings a smile to one sick child it's all worth it." It was an inspiring day that brought the community together to help patients that benefit from the warmth, love, and hope that comes from this program.
---
We have hope - Max M
Last month Bay Ridge Subaru donated a nice sum of money to Weil Cornell Medical College to help fund their research for finding a cure for cancer. From November to early January 2017-2018 every new car they sold they donated money to this charity. What a nice feeling and great people they are to do something like that for their community .
---
We Love to Care - Mike C
On behalf of the sales team at Bay Ridge Subaru we was honored to visit our local hospital to provide blankets to the sick children of Brooklyn. We are not only about the bottom line, we are all about the community and caring for our neighbors. Myself and Mike represented the store along with the representatives of the hospital and LLS last month as we pulled up in our Outback filled with blankets and letters of hope for the sick children. We care and we will go above and beyond for our community.
---
Adoption event in Brooklyn - Pia R
I was driving down Cropsey Avenue last Saturday and I saw about 40 dogs standing outside the Subaru showroom. I parked my car and spoke with some of the people outside who enlightened me to the happenings. Bay Ridge Subaru was having a adoption event with a local animal shelter and after the event a "puppy costume contest". It was so nice to see such happenings in my neighborhood. I went inside the facility and it was like a party there with giveaways and everyone so upbeat. I started talking to Patricia and she was explaining to me about the event some more and why Subaru does things like this and I agree 100% with their marketing this world should be more about each other and love. I was so enthused and into the moment my next reaction was to lease my new Crosstrek! I can't wait to see what Patricia and her co-workers do next for our community. Thank you for loving us Bay Ridge Subaru.
---
Love grown in Brooklyn - MICHAEL C
Last week we delivered some reading books and school supplies to a local elementary public school as part of the Subaru Loves Learning project. It was a very gratifying experience for both myself and our team at Bay Ridge Subaru. This is our 2nd year partnering with this particular school and this year I actually met with some of the students as their class opened the boxes in front of me and to my pleasure they were excited! Being a father of 3 children, seeing the glow in a child's face is the best thing one can ask for. When I returned back to the showroom I relayed this same story to my sales team and they were very happy for our "neighbors". I am so elated to be working for a company like Subaru who not only cares about their "numbers" and selling cars, its more importantly about helping our communities to make this world a better place.
---
Bay Ridge Subaru Sharing Love - Billy S
A van with Bay Ridge Subaru and Subaru cars all over it pulled up on 8th avenue this week and 2 men came out and started to unload boxes from the van. All the boxes said "Subaru and love". So I asked what it was and both men introduced themselves and where they were from and said they were donating blankets and other gifts to the sick children of Maimonides Hospital. What a great and kind gesture, I had to take pictures of the van and the boxes, it's something I never expected to see! Bay Ridge Subaru is definitely different then all other dealerships. Next time I need a car I will visit Mike C. and Mike I. because it's not just about the sale it's about the community and our borough, and I know these people care about Brooklyn!
---
Bay Ridge Subaru Cares - John C
My family and I came in for our next car lease and we left with a new family. Patricia, Mike and Craig not only worked out the right car for us but also fit it into our budget. Its tough now-a-days finding people who actually care about you and your family ! We absolutely love our new Legacy and the people at Bay Ridge Subaru. They are truly amazing, when we picked up our car they were packing up a check to donate a sizable amount to a local medical facility. Its not all about making a deal for them nor selling a car, its about being part of our community.... Welcome to my family Bay Ridge Subaru Sales department
---
WeillCornell Breast Center loves Bay Ridge Subaru - Linda V
For the second consecutive year, BAY RIDGE SUBARU has been an integral part of our quest to end death from breast cancer. We applaud Tom Ruggiero and his superb team and colleagues at Subaru for leading the way in their "Share the Love" campaign. We are incredibly grateful to be the recipient of all that "love". At the Weill Cornell Medicine Breast Center, our mission is to take the best care of patients that we can, discover new therapies that improve lives and teach the next generation of physician scientists. Having innovative research available to our patients is a critical part of what we do every day. This is made possible by generous donors such as BAY RIDGE SUBARU. Thank you to Tom and the Team! Join our Crowdfunding Movement at : https://crowdfunding.cornell.edu/breakingthroughcancer
---
Its all about Love at BR Subaru - Lydia C
I came into the sales department one Saturday telling my horrific story on how my cay was totaled and I needed wheels. Anthony showed me vehicles and I pleasantly decided to go with the 2017 Crosstrek. He was so pleasant he made me feel like part of his family, usually as a woman I would be skeptical about being taken advantage of ... BUT THAT WAS NOT THE CASE ! I highly recommend this dealership, I even was introduced to the Prep Manager - he did an outstanding job on my Crosstrek ! Thank you Bay Ridge Subaru
---
Mike C.'s team - Geraldd W
I leased a 2015 Legacy Premium from Mike C. and I can attest he truly cares about your needs and getting you exactly what you want and fits you like a tailor. So last week my Legacy gets a blowout on the Belt Parkway, (NYC streets after winter, ugh). I call Mike late Saturday afternoon and he gets me roadside assistance to change my tire and tells me to get right to the shop. I get to Bay Ridge, meet with him and Kevin and they get a tech right on my car! What service they provide there! Mike C. will take care of your automotive needs and give you the hook-up when you need it. I only go to Mike and his team at Bay Ridge Subaru. Thank you guys !
---
Maimonides Toy Drive 2016 - Daniela B
Maimonides Infant and Children's Hospital of Brooklyn would like to thank you for your generous donation of brand new toys! Our annual pediatric cancer center holiday party was a HUGE success in part because of your very generous donation of brand new toys. We had a visit from Santa Claus at our party who personally gave wrapped toys from your donation to each child in attendance. We have seen the biggest smiles on kid's faces when they received their presents. Thank you again for your vision and generosity and thank you to all who have contributed to your toy-drive.
---
Bay Ridge Subaru Toy Drive - Jill C
In the month of December, Mike C. and his sales team at Bay Ridge Subaru had their annual toy drive, benefiting sick children at a local hospital in Brooklyn. I was so proud and happy that total strangers in a business care so much about our community. On the day they went to the hospital, I was at the showroom and watched them load up from front to back a brand new Outback with all unopened and unused toys that they collected from their employees and their clients, what a sight to see!! People still do care, I believe that Bay Ridge Subaru cares about their community !
---
The Blue Bullet - Nicole B
For many years my fiancée and I wanted a Subaru. Anthony, Mike & Craig went above and beyond to make sure we got our Subaru. They gave us a great deal and returned my other leased vehicle for us. Convenience isn't the word for what they did for us. The other thing I love about Bay Ridge Subaru is how they care about the community. Between donating money to local charities and at Christmas time they have a food and toy drive for needy children and their families. We commend them for their good work and helping out the community. And we thank them for leasing us our new 2017 Forester XT which we call our "Blue Bullet". - Nicole
---
Bay Ridge Subaru cares about Special Kids - Crissy L
I run a charity based event in Staten Island, New York called the Aproxia Walk of Staten Island and we raise money for children with special needs. I went to all different companies asking for any small donation to help. I then drove over the Verrazano bridge to ask some Brooklyn companies to donate. I met with Mike Chiusano the General Sales Manager and Mike Inzirello the Marketing Manager at Bay Ridge Subaru, and not only did they openly and willingly give a very generous donation but they rented a table at the event! They had giveaways for the families and even gave out a gift card "just because" to one lucky person. Bay Ridge Subaru really cares about their community even if it is over a bridge! Thank you Mike C., Mike I and the rest of the team at Bay Ridge Subaru!!
---
Bay Ridge Subaru Loving all my kids - Jody L
I am the parent liaison to my child's school PS 204 (The Vince Lombardi Elementary School). One day Michael Chiusano, General Sales Manager for Bay Ridge Subaru contacted me that he and his company had a donation for my child's school. Michael showed up at our school with 6 boxes of school/art supplies. The school supplies are being put to good use by our children and they are enjoying the supplies for their art work and studies. We admire your commitment and dedication to our great community. On behalf of our entire school community, we thank you .
---
Badass Loves Bay Ridge Subaru! - Erin H
Badass Brooklyn Animal Rescue just held its annual Fall Fest street fair fundraiser, and it wouldn't have been as successful without Daisy, her Badass dog Spector and all of our friends from Bay Ridge Subaru! We are so proud to be part of the Bay Ridge Subaru family of animal lovers and to be associated with such strong supporters of our dog rescue. Thank you Mike, Daisy, Franklyn and Spector and everyone at Bay Ridge Subaru for your amazing support of Badass Brooklyn Animal Rescue and we can't wait to do this again!
---
Amazing service!! - Rosemarie L
I had a tire emergency right before the holiday weekend. I went into Bay Ridge Subaru and Marc, the service manager, assured me they could get me a new tire, change my oil, inspect my car and check the recall - all in one visit!! Thanks to the mechanic Zak, it was all done in one visit!! But the best part is I had brought my dog Cinnamon over the VZ Bridge with me and expected to be walking the streets with her while they worked on my car. But this dealership is so pet-friendly! The manager Mike welcomed us into the showroom and waiting room, coffee for me and a bowl of water for Cinnamon!! In a reasonable amount of time, we were on our way! They really took amazing care of me, my Subaru and my dog!!!! I love my Subaru and I love my Subaru dealership! Woof, woof!!!
---
Weill Cornell Breast Center BIG thank you - LInda V
All of us at the Weill Cornell Breast Center make it our mission to take the best care of patients that we can. This includes having cutting edge research available for our patients as the only way we will beat breast cancer is by pushing the envelope on new and innovative strategies. That takes time and money and Bay Ridge Subaru has stepped up to the plate to help us achieve this goal for everyone. With their help and generous donation this year, we are closer to Breaking Through to a cure for breast cancer. Tom Ruggiero and his superb team and colleagues at Subaru are emblematic of the public/private partnerships that will help move eradication of serious diseases forward. We applaud them for all their efforts and are grateful for their support! For more information on "Breaking Through for Breast Cancer", watch for our upcoming campaign to extend the work contributed to by Subaru. (https://crowdfunding.cornell.edu/BreakingThroughCancer)
---
Badass and Bay Ridge Subaru - Deb K
Bay Ridge Subaru supported our rescue organization at our annual Badass Fall Festival. They made a sizeable donation, and joined us at the Festival, engaging Festival-goers. They are huge animal supporters, and supporters of rescue, and we give a big Badass THANK YOU to Mike and his team! Can't wait to see what we can do together moving forward - how Bay Ridge Subaru can help Badass to continue to Save Badass Dogs from Idiot Humans! RUFF!
---
I Love, Love My Subaru With All My Heart! - Madeline C
I have been a customer of Subaru since 1988. I owned my first outback, loved this car, took me everywhere and in the highest snow storms. I am unstoppable in all kinds of weather! Then I traded it for a 2007 Tribeca. This car was made of steel. I raised my kids with this car and they learned how to drive with it to. I aways felt safe in it..it was a tank. I sold the car and went back to an Outback in 2014. I truly love my car! The people in the service station are magnificent, always with a friendly smile and there to help you! I don't know what else to say..I love, love my SUBARU, with all my heart!
---
Mercy First - Angel Guardian Orphanage Campus - Tom R
The Greatest Gift is the Gift of Giving! This year we launched a campaign to collect unwrapped toys for a Brooklyn based orphanage. We were very successful acquiring an Outback full of joy for unfortunate children. On delivery day we dressed our Subaru sleigh with antlers and a big red nose before heading out for our delivery. Upon arrival we were greeted with open arms and shown the utmost appreciation for our charitable donations. At the dealership we had a real sense of accomplishment, and warmth in our hearts. Activities such as this strengthen the unity and moral while helping our local community. We are looking forward to starting our 2015 Toy Drive earlier this year to gather more items, picking up sponsors along the way.
---
Pet Adoption Drive: Bay Ridge Subaru - Julia K
We Are Their Voice! Showing love for our furry friends is a big part of Bay Ridge Subaru. We held a very successful adoption event complete with a food collection drive and give-a-ways. The ASPCA stated that our adoption event was one of the "more successful events" of its kind, finding homes for 5 or more animals. During the event we opened our doors to local vendors to showcase animal related products and or services to acquire more exposure on a neighborhood level. Community is what we are all about, and our 4-legged friends fit right in. Just remember....we're a pet friendly facility, so take them along for a test drive.
---