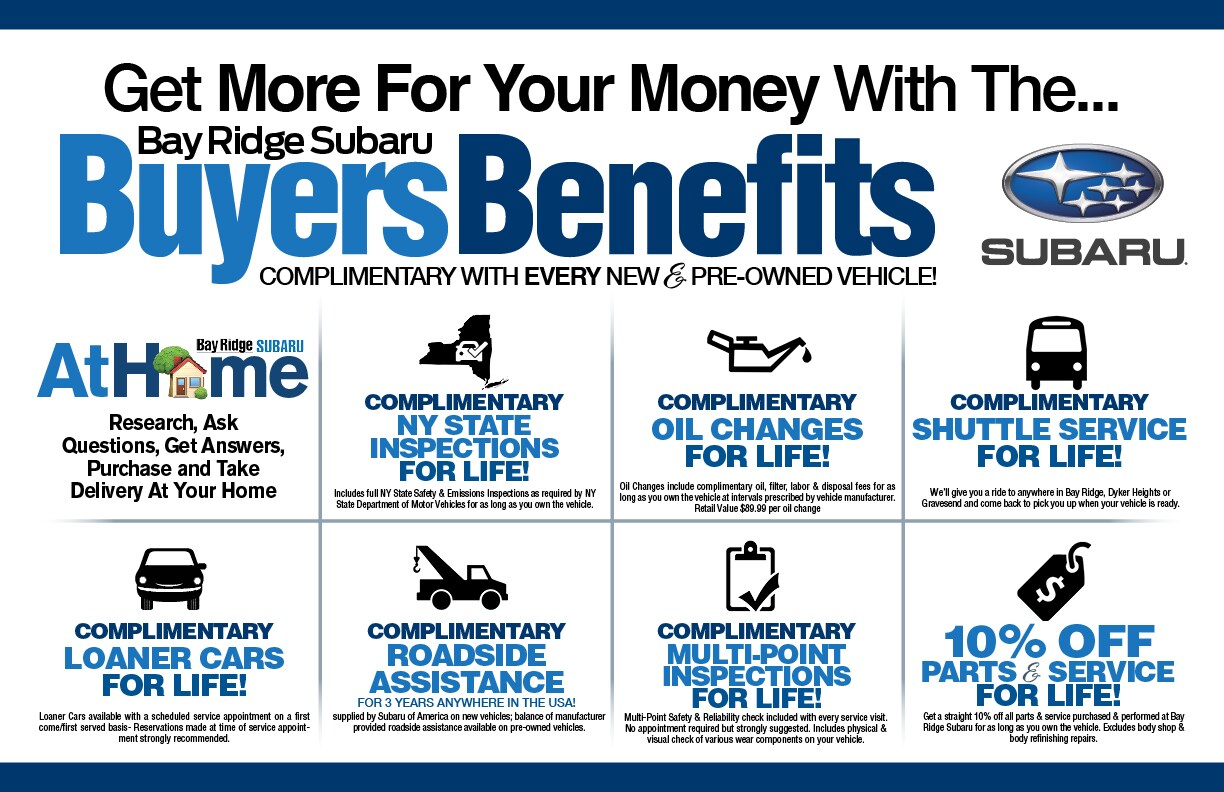 Benefits So Good, You'll Want to Buy With Us
We are pleased to offer our customers from Brooklyn, New York City, Staten Island, Jersey City, and beyond, a range of incredible buying benefits. From complimentary NY State inspections and oil changes for life, to complimentary shuttle service and 10% off parts and service, Bay Ridge Subaru is the best place to buy your next Subaru.

We offer incredible leasing and financing deals on our new and pre-owned Subaru inventory and would be happy to get you behind the wheel today. Give us a call, or stop by our dealership located at 1819 Cropsey Avenue, Brooklyn, NY. See you soon!

Available on all new & pre-owned vehicles purchased/leased at Bay Ridge Subaru after 5/1/19. All benefits are non-transferable. Synthetic oil changes included on new 2.0L engines and pre-owned vehicles which require synthetic oil. Loaner vehicles available on first come/first served basis with a service appointment requesting a loaner vehicle- must have valid NY drivers license and insurance. Shuttle service available during normal service hours- may require a wait time for drop-off and pick up. Roadside assistance for 3 years/36,000 miles supplied by Subaru. See Bay Ridge Subaru for complete vehicle details. NYDCA#1200327.
Questions About The
Bay Ridge Subaru
Buyers Benefits Program?
Please Complete This Form Or
CALL 888-435-1441
* Indicates a required field